The ideal Tablet Holder in Camper & Caravan GOOS-E®.
Anyone going on vacation by caravan or motorhome soon will undoubtedly take a tablet or iPad with them. A good tablet holder in camper or caravan is the ideal travel companion in this regard.
Handy on the go but especially at destination. Because let's face it: even at your vacation destination, how wonderful is it to sit back and relax and enjoy your tablet or phone every now and then?
With iPad and tablet holder in motorhome or caravan on your way .. 😊
Are you happily "en route" to your vacation destination, it is sometimes nice to have a larger navigation system. For example, a tablet or iPad with Google Maps is ideal. This is always up to date and even the smallest alleys are made visible. Besides, you may not want the tablet screen in your windshield but practically next to you. With the tablet holder car from GOOS-E keeps your windshield and dashboard free. And you don't have to worry about falling too tablet. This unique holder attaches in or under your seat rail. By the way, also extremely convenient for the small passengers in the back 😉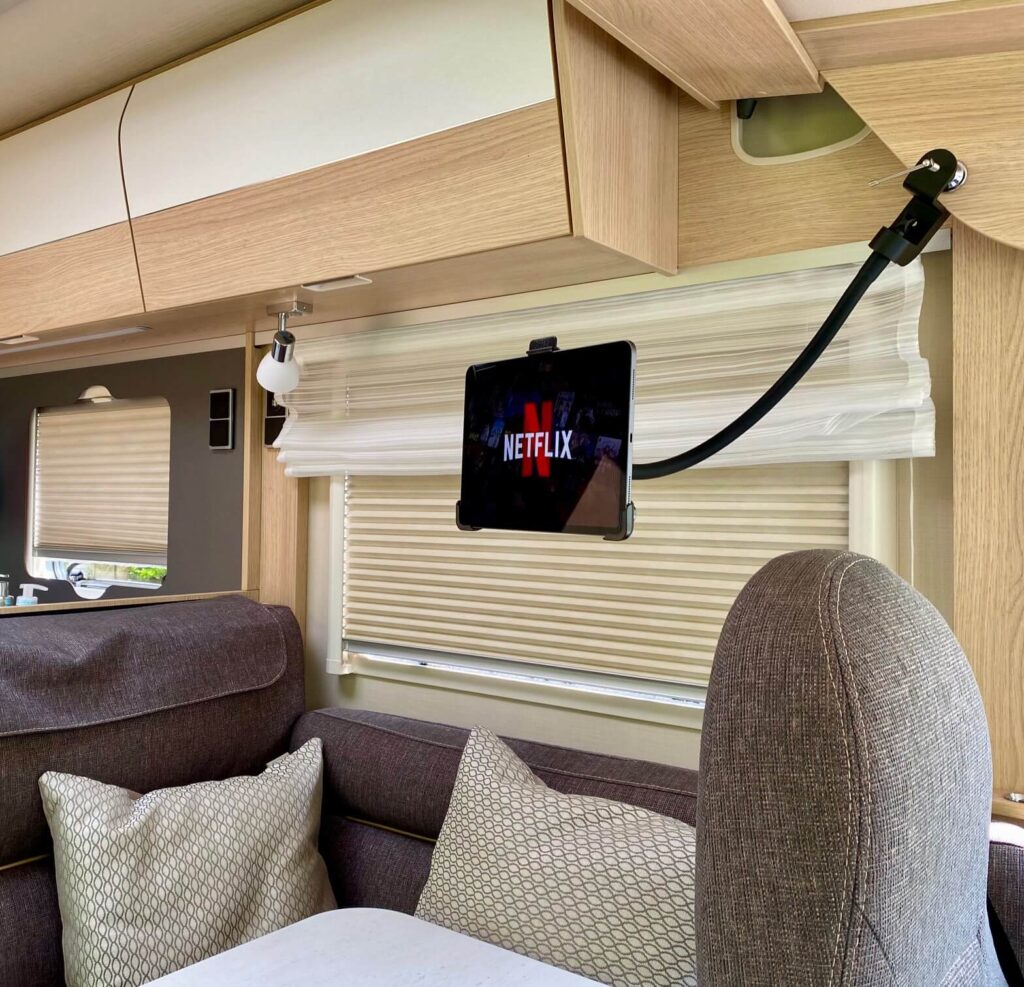 With the tablet holder in motorhome or caravan watching TV
Once you arrive, you obviously want to relax to the max. For example, just watching TV from the tablet or iPad, or at night watching the news or an exciting Netflix series from your RV bed. How nice is that? And in the process, of course, you don't want to have to hold the tablet or iPad constantly. A good tablet holder or iPad stand will prevent cramps or neck pain.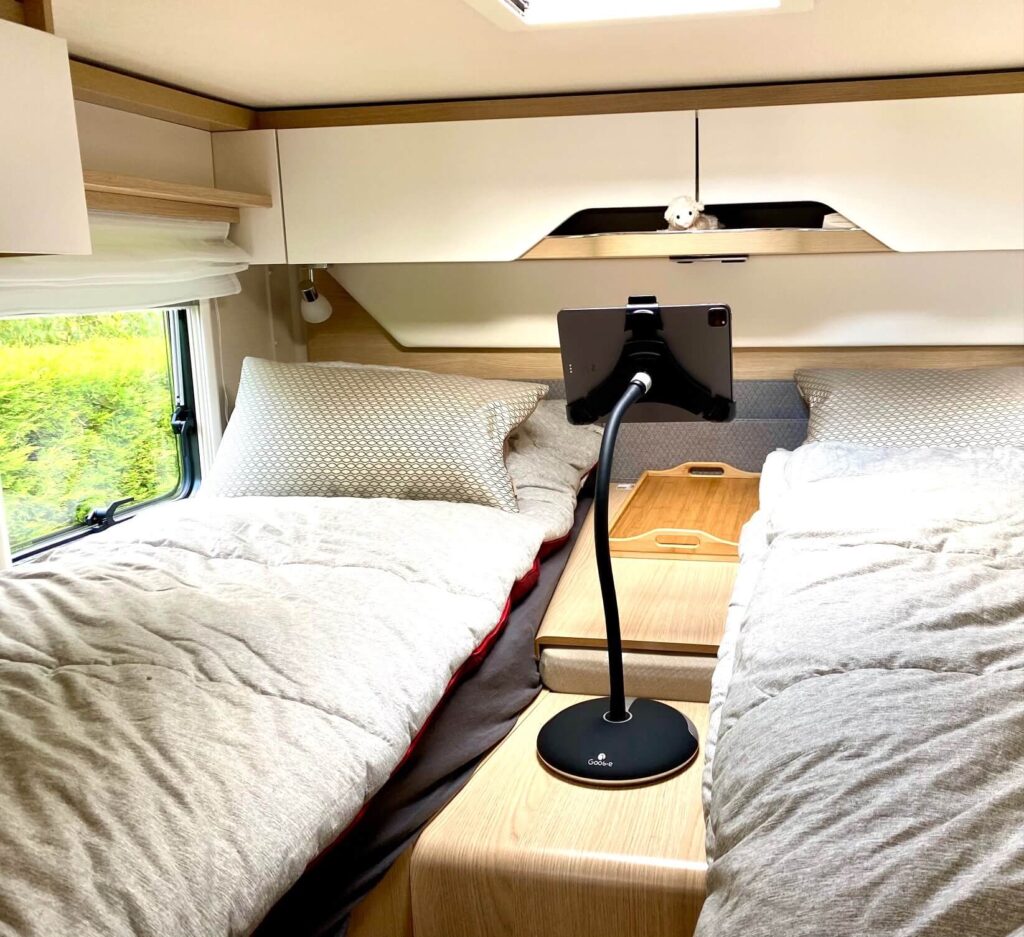 Facetime or video calling with tablet holder in motorhome or caravan
Every now and then you might want to take a Video calling with friends or family. From the camper or caravan. Lovely from your camping spot with a glass in hand. This way you stay informed and let friends enjoy your vacation adventures. Provided there is sufficient WIFI available of course. 😉
Playing games with the tablet or iPad
Playing a game with a tablet holder in caravan or camper also becomes a lot more fun. Because with a handy iPad stand, you can play without any problem. Relax playing Wordfeut or gaming without having to hold the tablet. In your caravan or RV, you can always find a place to fasten the tablet or put it somewhere.
GOOS-E flexible tablet holder in motorhome or caravan
GOOS-E is a very flexible tablet holder and iPad holder very suitable to take with you in camper or caravan. So you can put it down thanks to a very stable base of over 4 kg.
If you have no place to put it down attach it to a table or shelf. Thanks to a convenient 2-way clamp, you can attach this holder both horizontally and vertically For example, to your vertical bed edge.
GOOS-E has a very strong yet easily bendable neck. Also called "gooseneck" (hence the name GOOS-E, the flexible goose neck or "gooseneck"). With 2 hands, you bend the neck into any position and bring the screen exactly where you want it.
So you will experience hours of viewing pleasure in your caravan or motorhome.
Dutch brand GOOS-E develops flexible tablet and phone holder solutions. A feature of this is the modular system that allows you to choose from different neck lengths, types of holders and attachments. This allows you to always achieve the most ideal screen position of your tablet, iPad or phone. Also check out our phone holders.
Just the right position and height as you like it. View all products in our online web
shop.
 
We hope you have a very happy vacation.
Lots of travel fun in advance!!!
Mobile Joy in any situation
GOOS-E mobile holders make tablet and phone use more fun and comfortable. In any situation, just the way you like it! Want to know how? Watch the video here.
For any brand and type of tablet & phone
Whether you have an Apple iPad or iPhone, a Samsung Galaxy tablet or phone, or a large Microsoft Surface Tablet, GOOS-E has a suitable holder for every type of device.
Installation of a GOOS-E is simple. Switching from phone to tablet and vice versa is also child's play. Have you become curious about the installation? Preview the installation video here.
We have already told a lot … but maybe not everything yet;) Want to know more?
Please take a moment to contact us. We are happy to help!